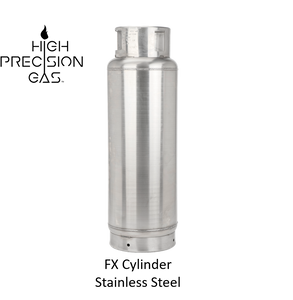 Stainless Steel FX Cylinder for LPG
HPG stainless steel FX cylinders are designed specifically for the cannabis industry with the extractor in mind.  HPG stainless steel cylinder offers a premium internal cleanliness.
Stainless steel is a smooth material that is resistant to oxidation and protects from the build-up of bacteria and other microorganisms. This ensures optimal cleanliness, which is why it is a preferred material for use in the food and medical industries. Paired with Worthington's proprietary cleaning process, which reduces the amount of residual oils, particulates, metal shavings, weld slag and mill scale, the 100-pound stainless steel cylinder eliminates the need for additional cleaning prior to use. In a cleanliness test conducted by a third party, the stainless steel cylinder had significantly less residual oils and particulates than a standard 100-pound carbon steel cylinder.
FEATURES
• Proprietary cleaning process ensures cylinder arrives ready-to-use with no downtime
• Stainless Steel construction resistant to oxidation
• Robust collar design offers extra protection for the valve and a comfortable grip for improved mobility
• High-quality welding with additional post-weld processing to reinforce cleanliness
• Compliant with California Code of Regulations, Title 17 Division 1 Chapter 13 §40242 (b).
• Corrosion resistant.  Free of metal particulate aka "black flakes".
• Practically no residual oil or contaminants.