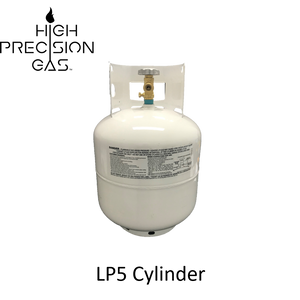 Carbon Steel LP5 Cylinder Daily Rental Fee - $0.30 Per Day
We utilize a dedicated cylinder fleet for high purity Extraction Grade™ and Solvent Grade™ LPG's. This eliminates cross-contamination and unknown impurities that can be introduced from different industrial applications.
We will charge a deposit of $200 for the cylinder.  The deposit will be returned upon receival of the cylinder.  Minimum rental period of one (1) day.  That one (1) day minimum rental period is measured from the time the cylinder leaves our facilities through 4:00 p.m. the next day.
Our portable cylinders are engineered for lightweight durability. Each cylinder features a smooth outer finish with clean, dry and scale-free interiors. Comfortable hand-holds in the collar provide easy and convenient portability.
 
Our steel portable cylinders are rugged and damage-resistant.

Steel portable product features:
Rust-inhibiting Durabond powder coat paint
Multiple valve configurations adaptable to customer requirements
Corrosion-resistant and rust-free
The cylinders meet industry regulations for quality. Plus, all of our cylinders are manufactured in facilities that have won awards for proactive safety practices and regulations. These cylinders are also manufactured to the Department of Transportation (DOT) or Transport Canada (TC) specifications in facilities that have a Quality Management System certified to ISO 9001 requirements.